Archive for the 'Featured' Category
By: Orion | Dec 4, 2013 Featured
Hello all! I posted the proposition of this article on Gonzo Times and got alot of likes, even early in the morning. I decided it might make for a good article. Let me know what you think.
Minimum wage propositions have been going on forever. Wealth inequality is a persistent problem and, especially for people stuck in more menial jobs, the inequality feels the worst. With a record cost of living in the city and various new government programs from housing to expanded mass transit popping up to treat it, minimum wage inevitably became a very hot issue in Seattle, Washington during this off year election.
It's not strange that it did. It seems like the most base of left wing ideas. Most people outside of large centers of power support it. Matthew Yglesias, a lead blogger for Think Progress, the website of the Center for American Progress, is very close to large centers of power. He has attended Harvard and works for one of the most prominent think tanks in America and possibly the most prominent progressive one.
Yglesias doesn't like Seattle liberalism, apparently. He not only wrote an article critiquing socialist Kshama Sawant for advocating the re-engineering of Boeing away from the military industrial complex toward public transportation but wrote another criticizing a minimum wage increase in Seatac, a Seattle suburb.
Both articles made absolutely no sense whatsoever. Take a bite out of "SeaTac Minimum Wage Won't Change Anyone's Mind," where he tries to explain why the minimum wage increase won't affect anyone's opinion for or against, I think:
For example, suppose that we seem to have evidence that job growth slowed in the wake of this measure. The obvious retort is that SeaTac is a micro-jurisdiction—just 10 square miles—so the fact that a handful of fast-food joints decided to open just outside the city limits rather than just inside doesn't tell us anything about bigger policy issues.

Or suppose that we seem to have evidence that job growth has been robust in the wake of this measure. The obvious retort is that SeaTac is a micro-jurisdiction built around the airport. There's so much sunk capital in that airport that, as an idiosyncratic matter, the negative impact on growth and investment is too small to perceive on a short time frame.
If you can explain those two paragraphs in a way that makes sense, you will be smarter than me or Yglesias.
With this and the article on Kshama Sawant he wrote last week, Yglesias seems to want to come out against three base liberal ideas – a minimum wage increase, an increase in public transportation and a reduction of the military industrial complex. The first two are pretty popular with the public as a whole, including moderates (maybe in Yglesias world, mass transit is a radical idea but it was a conservative Republican president, Dwight Eisenhower, who created a massive interstate highway system across this country in the 1950s), while the latter is popular among both liberals and libertarians.
Yglesias wants to come out against these while not actually coming out against them, a sign that he has been in Washington too long if I ever heard one. Having worked there even briefly, I get that D.C. could make someone drift toward the hard right in a way they never expected before going there. Big money funds everything there and corporatism is to be expected. If Yglesias has changed his views, he should be open about it. We all do that, this writer included.
There is one valid case against the minimum wage and conservatives have blocked the minimum wage for years by bringing it up. A high minimum wage can potentially harm a small business. Imagine you own a pizzeria. You have five employees who work full time – that means $40 a day according to the $15 law. $40 times 5 days is $200 a week. 5 times $200 means you are doling out $1000 to your employees each week. That amounts to $52,000 in all from your budget at the end of the year, not including the pizza materials, decor, beverages and other costs. That could be alot of money for a business that is just getting its feet wet in the business world.
It's not alot of money, however, for Wal-Mart and McDonald's. McDonald's at least used to brag on its signs that it had served billions of its items across the world. If that's true, it can surely afford to pay its employees a living wage. Far from a temporary job, there are people who spend their lives working at McDonald's – working there for ten years or more, sometimes.
These people are working. They are not welfare queens – they are the face of these corporations, even if the executives do not get that. A good, sound minimum wage law would make it mandatory that corporations that large, along with other large companies like Boeing or Microsoft, pay their employees a wage that repays them for their work and allows them to survive.
To protect small business owners, however, such a law would also allow an opt out clause – businesses with budgets of $100,000 or less a year could opt out of the regulation. I think that instead of writing off a minimum wage increased, which notably got passed in the much more conservative suburbs of Seattle, not the city itself, it would be wise to rethink how such a law could work for everyone involved.
By: Orion | Dec 3, 2013 Featured
It is very easy to think this world can never be peaceful. If you are an American, you have probably noticed that the news is filled with violence or the threat of violence. The United States is enjoying a bizarre rash of shootings and mass shootings, spurred by something (a bad economy, psychiatric medication, police brutality, who knows what) and not seemingly getting any better. At the same time, wars loom all around us. Barack Obama and his administration lobbied strongly for an intervention on Syria.
Thankfully, the possibility of war with Syria ended and spawned a whole other possibility. Contrary to how the world may seem, war is actually on the decline. The mass shootings this country has faced have faced repulsion by decent people. A conflict with Syria was not just rejected by the American people but by the parliament of our strongest ally, the United Kingdom. It was the first time their parliament has rejected a motion for military force since their parliament was created.
Despite the bloated military budget of the United States and its involvement in myriad countries through occupations or drone strikes, America stands alone in that role. Besides the United States, there is a relative peace throughout the world. The countries of Europe, which could not control themselves from disintegrating in to two world wars, have become interconnected and prosperous over the last sixty years. The European Union certainly has flaws but the very fact that it became a reality at all showed a progress away from the violence of the past.
It's easy to forget how raw old hatreds are when they do not show their face. I lived on Guam for several months and while there, it became obvious that there were old hatreds toward the Japanese. The Japanese intended to wipe out the whole population of that island and would have if not for American intervention. Nevertheless, there is now a Japanese shopping district and the two trade amongst each other.
The hatred between China and Japan was even more intense. The Japanese showed significant brutality toward the Chinese in World War II. The conflict has never really bubbled up in to real hostility since that war.
Most of the world, from having experienced it first hand, seems to understand the cost of war and realizes that, whatever the differences we have, war destroys infrastructure, destroys lives and destroys countries. There will always be differences – world peace, which is possible, is not assured by a lack of differences but by an understanding of how to handle those differences.
The day of reckoning will come when either the United States can no longer afford to maintain its empire or finds itself no longer welcome in its former imperial stomping grounds. Both may be to come, in fact. The United States was already long ago forced out of the Phillipines – it is on the verge of losing its military presence within Japan (Obama has been slowly moving troops from the massive US base in Okinawa to Guam) and the possibility of leaving Afghanistan after twelve years also looms strongly. The United States will still have a strong role as a power broker but this new equilibrium may mean that it will start acting more like the other developed countries of the world, which have posited war as a last option for over half a century.
By: Mohamed Zeeshan | Nov 25, 2013 Featured
Iran and the P5+1 group of nations are currently in Geneva to find an ever-elusive solution to the ongoing stalemate over Tehran's nuclear programme. Only days after an earlier round of dialogue collapsed with many portraying France as the main antagonist, the world is anxious to put an end to the conflict. And most reckon that despite the positive rhetoric blowing in the air, chances for a solution are no better than they already were. Iran continues to hold that uranium enrichment is its 'sovereign right' (in fact more so since Israel was allowed it). The Western world holds that no nation within the ambit of the Nuclear Proliferation Treaty (NPT) should be allowed to build a nuclear weapon. On both sides, stakes are high and for good reasons, neither side will let its guard down.
Some even say that President Hassan Rouhani's friendly overtures towards America are no different from ambivalence – a ploy to buy Iran more time to build a nuclear weapon. But despite the realities on the high table, there are many reasons on the ground why this is as good a chance as any that the world will ever get to put an end to this farce.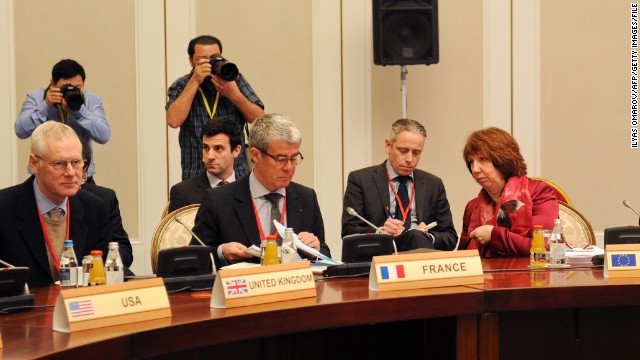 Friendly Banter: This certainly is the world's best shot in Iran
Consider firstly the election of Hassan Rouhani as President earlier this year. While most doubt that Iran's Presidential elections were truly fought fair and square, there are facts that easily escape the eye. Even hours before he was announced the President, Rouhani wasn't the favored front runner; it was the more radical and ideological pet of the Supreme Leader – Saeed Jalili. Whether results were tampered with is secondary. The fact that whoever decided the President chose the relatively moderate Rouhani over Jalili is significant.
In many ways, believe it or not, it was democracy that was the real winner in Iran this year. Ever since Tehran and Washington have been at odds with each other, Europe and America have piled sanctions one above the other on Iran's export-oriented economy. And in two years' time, Iran's oil selling capacity shrunk to less than one-third the 2011 average. Consequently, in January 2013, the oil minister conceded that his country was losing over $4 billion each month. But perhaps the most important result of the export sanctions was inflation – which flew over 40% heading into the Presidential elections.
All this didn't go unnoticed by the people. Iran's vibrant young middle class has been getting increasingly agitated at what they perceive to be Tehran's diplomatic inability to rescue their dying economy. It was only thus that the electorate gave one last shot at democracy, with over 77% of the population turning out to vote and throwing its weight heavily behind the only man who vowed to solve the stalemate.
That show of force by the Iranian public certainly had its effect on the clergy. For years, countries like Iran have been securing the support of their people through chest-thumping nationalism on the global high table. Across the Middle East, South America and even North Korea, successive dictatorships – or their like – have managed to portray to their people a 'Western' threat faced by their respective 'victimized' nations, thereby helping them unify the public and keep themselves in power.
But much changed with the onset of the Arab Spring. As a more vibrant, educated, ambitious young middle class grew across the Middle East, the same public began to grow increasingly impatient with a political class they accused of misleading public opinion to satisfy selfish gains. Thus began the dethroning of kings, generals and dictators across the Arab world. There is no doubt that the rebellion is only a few steps away from knocking at the doors in Tehran. If there indeed were to be a public uprising by the agitated Iranian middle class, the Sunni radicals now camping in the region would gleefully join in against Tehran's Shia leadership. That would break the back of Iran's ruling clergy as a bloody civil war would follow much like in Assad's Syria today.
Perhaps by all means, a public uprising in Iran today would then be bad news to the whole world. But more importantly, it would too to the Ayatollah whose supreme command over the country would lie in tatters. It was only so that Hassan Rouhani's election was gladly welcomed by the Ayatollah, who himself made a few flattering statements in favor of the West in the days that followed. For the moment then, Iran's experiment with democracy has worked. But that isn't all that the middle class would settle for. The reason Iran's public installed Rouhani as President is because they believed that he was the most likely to resolve their nuclear nemesis. If Rouhani fails too frequently, it remains to be seen how long the people would hold their patience with him.
This therefore is perhaps the best opportunity imaginable in Iran. There are too many people who desire a solution to the conflict. There is the West, where President Obama, after myriad trips and falls on foreign policy, is hoping as hard as ever for a triumphant legacy to leave behind. There is the East, where India and China are feeling increasingly hard done by the sanctions that limit their imports of crude from Iran. Then there is the Iranian middle class which has been insinuated enough by Tehran's floundering diplomats. But perhaps most importantly, there is the Iranian clergy which fears for good reason, a violent backlash from the public with a few uninvited militants.
All this puts extra pressure on the world's leading powers to resolve what has been at best, an exposure of the follies of international diplomacy and law, and at worst, a farce in the midst of tough economic times. If the world ever wanted a chance to close the chapter in Iran, this is as good a time as any to try.
By: Orion | Nov 23, 2013 Featured
Politics isn't always fun – it is very trying and painful at times. However, politics is unavoidable. It is by definition the relations between some individuals with one another.
The confusing politics of over 6 billion people on one small planet logically needs rules. We often use labels to keep things from being too confused. Alot of unconventional (at least to the United States) rules have been adopted in recent years by prominent figures – libertarian, socialist – but the big two political terms remain: liberal and conservative.
Let's take a look at one:
Liberalism is a political philosophy or worldview founded on ideas of liberty and equality.
I would say that most Gonzo Times readers and contributors are liberals, especially by this definition. Almost all of Gonzo's posts are about violations of liberty and equality – the police violating innocent people or corporations like McDonald's or Wal-Mart refusing to pay even basic living wages to the people who build their empire.
However, the word "liberal" becomes paradoxical because most people in the public sphere don't view liberty and equality as things that go along with one another. They are either/or. The "conservatives" that cloister around the Republican Party are insensitive and unbothered by poverty, corporate greed and inequality because they firmly believe that most efforts to curb those things will take away from the liberty of everyone else.
Liberals are often unbothered about what happens as an inverse of government action and many, especially during the Obama era, have taken on an alarmingly display of embracing government force. Obama has managed to sell a police state, more interventions abroad than his predecessor (with the wisdom that the public won't think of them as wars as long as there are "no boots on the ground"), a continuation of the drug war (no matter what the rhetoric is from the White House, raids are still made and resources stolen from people making an honest living trading marijuana) by framing his policies under a liberal image and the incredibly Orwellian lobbying for the right of the government to assasinate US citizens. Many of Obama's actions would have brought out BusHitler signs ten years ago – now the uproar is silent.
Now for conservatism:
holding to traditional attitudes and values and cautious about change or innovation, typically in relation to politics or religion.
Like liberal, being a conservative is very vague. There are values that are withering away that I would like to hold on to. There was a time when people would be protesting in the street, much more passionately than they are now, something like Obama's drone policy. A government that can kill anyone it wants for any reason it wants isn't change I believe in.
Unfortunately, in this country, conservatism is about social change – superfluous issues of bizarre personal hate such as the opposition to same-sex marriage or an opposition to a change in health care policy, since this country, which is young, had until now largely avoided large scale efforts at providing health care services to all of its citizens.
The terms are definitely largely inadequate yet we act like they are gospel. The terms "liberal" and "conservative" will probably remain in the lexicon of our ongoing dialectic but it's indisputable that more accurate terms could be applied.
By: Orion | Nov 20, 2013 Featured
Even though I participate in the Gonzo Times Facebook community alot, it is very hard to keep things going on the website here. Ideas, like enough ideas to power an entire article, only come so often. I'm trying to encourage others to contribute more and, if you like what you see here, please consider contacting me or Punk Johnny Cash about contributing. You don't have to agree one hundred percent with what has gone before.

Here's an article I just recently published with the Hampton Institute – enjoy:
Something incredible happened in the Seattle area during the off-year 2013 election cycle. Most of the races, while significant enough for city residents, were relegated to localized importance. However, there was one exception.

Kshama Sawant, a candidate for City Council as a Socialist (as in the Socialist Alternative Party, not a descriptive term), was victorious. Sawant not only won a seat on the City Council, but also won prestige – she is well beyond another lower level academic (she teaches economics at Seattle Central Community College) – she is now a force to be reckoned with in Seattle-area politics and a trailblazer for a political brand that has largely remained dormant in the U.S. for the better half of a century.

Sawant's victory, while seemingly coming out of nowhere, was actually buoyed by widespread support. The Stranger, a local newspaper enjoying over twenty years of influence in the city, ran nearly once-a-week editorials endorsing Sawant from many of its most influential writers, among them Charles Mudede and former talk radio show host Jonathan Goldstein.

For people seeking policy alternatives, Sawant's victory is a good sign in a world that is increasingly deranged. Sawant was running on advocacy of a $15-an-hour minimum wage – in fact, most of her campaign signs had that promise advertised. While her victory was drawn out – it took over a week for the results to really tilt in Sawant's favor[1] – it took over a week for all the ballots to be counted and for the city of Seatac to pass an initiative for a $15 minimum wage [2].

Your opinion of "third party" political candidates will likely tell a lot about your general orientation on politics and whether or not you are capable of thinking and seeing outside the box. While working for Campaign for Liberty, Ron Paul's political advocacy group, it was common to overhear establishment Republicans say "I hate that Ron Paul, he wants us to surrender!" The opposition to Paul (even from Republicans) was pretty fierce – confirmation that broader horizons aren't really welcome amongst people who have been in the same political circle for a long time. Conversely, the fact that Paul had done more for legitimizing anti-war sentiment and civil liberties is often lost on the left.

It was the same back in 2000 for progressives dissatisfied with their options. Ralph Nader is still viewed by many progressives as the primary reason for Al Gore's defeat. The fact that Gore had an indistinguishable foreign policy (it's usually difficult to see new ideas in foreign policy among the "two" parties) from Bush and was running on a campaign of entertainment censorship with the urging of his wife, Tipper (creator of the "Parental Advisory" sticker), is often forgotten.

Contrary to the view of them as spoilers, independent candidates represent perhaps the only hope for positive change in electoral politics. The Democratic and Republican parties are machines comprised of a laundry list of interest groups – from the AFL-CIO bureaucracy on the left to evangelical organizations on the right to defense contractors and drug manufacturers on both the left and right. Normal people are often forgotten when it comes to political agendas, and it's inconceivable that anyone could penetrate the larger sphere of national politics without having income and assets nearing or over 7 digits. The cold, hard truth is that politicians of both major parties work for groups who want war, crony capitalism, and a police state.

The "outsiders" that often end up running as third-party candidates represent issues that are important to people outside the mainstream political sphere – in other words, not special interests pushed by the corporate power structure. Prior to his entrance in national politics, Nader had been a consumer advocate for years – he helped make mandatory seatbelts a reality. Car safety was largely ignored by the car companies themselves, and implementation likely never would have occurred if it weren't for grassroots advocacy. Despite this, the automobile manufacturing conglomerates were still awarded the privilege of shaping such policy – something they never wanted to begin with.

For Sawant, the issue of a minimum wage increase was basically abandoned by major politicians from both sides of the aisle. Bailouts and other forms of corporate welfare at the expense of taxpayers are accepted by both parties, and the orthodoxy that mandating a living wage to people working for a company will only "hurt business" has remained constant. Because of this, the idea of setting a standard and fair living wage for the workforce has significant opposition – for example, the recently re-elected Republican governor of New Jersey, Chris Christie, is very much opposed to it. [3]

Beyond her importance as a third-party candidate, Sawant's status as a socialist is very significant. While many popular U.S. Presidents from Jefferson to Roosevelt to Eisenhower were best known for their public works, the Reagan Revolution was very critical in establishing a negative connotation for public service and distributive justice. Sawant's ability to appeal to a broad electorate reflects a sea change. She did so by raising only $110,000 compared to her opponent's $238,196[4] – therefore, bucking the trend that candidates who raise the most money usually win.

The website of Socialist Alternative[5], a significant socialist American organization that sponsored Sawant's campaign, credited her success with distaste for the two-party system:

Rooted in the Great Recession and the shallow economic recovery, there is a tremendous distrust of the political establishment, which fueled both campaigns. The government shutdown also stoked a popular rage that allowed the socialist campaigns to strike a real chord with ordinary people. During the government shutdown, the approval rating for Congress slumped to a historic low of 5%. In a Gallup poll, a record-high 60% said that a new party was needed in the U.S., and a record low of only 26% said the two parties were doing an adequate job.

The world is changing fast, and many things that we often held as an immoveable fact of life are radically different now. For electoral politics in America, change seems to be on the horizon. The election of Sawant reflects this. As a springboard for third-party politics on the Left, Sawant's arrival on the political scene threatens the dominance of Republicans and Democrats in the United States. And that is a good thing.
By: Orion | Nov 9, 2013 Featured
I get alot of hostility for what I write – here at Gonzo, on the Gonzo Facebook page, at Hampton and others places I have helped with. I am sensitive and I do internalize more than I should but I try to keep thick skin, seeing as writing about public issues, which effects literally billions of people, is bound to be messy by definition and, even if you tried to be balanced or objective, what you write and say is bound to piss someone off out there.
When I get criticism, the standard I use is to only take in what you hear more than once. If different people end up saying the same thing, there must be truth there if they were able to arrive at that conclusion independent of one another. One of the things I get the most hostility about is criticism of President Barack Obama – even if the disillusionment is strong, Obama inspired alot of people with his 2008 campaign and criticism of Mr. Hope has a sting to it that criticism of George W. Bush or Bill Clinton didn't.
I have gotten some nasty e-mails about criticism of Barack Obama's foreign policy that I am quite sure I would not have received if the article had been written fifteen years ago about the wisdom of Bill Clinton's policy towards former Yugoslavia. Obama said himself in his book Audacity of Hope that he seems to act as a mirror for his supporters' hopes and ideals for the future and, so, when discussing any policy that involves Obama, you're not really talking about the policy itself but about any number of emotional investments.
I have to cast aside some of the criticism then for the survival of my own ego but out of fairness, one has to take in the ones that repeat themselves. One is that I can't name leaders who haven't disappointed or turned in to the machine to some degree. There's already an article up here about that. Another is what policy would I, or similar left libertarian leaning folks, actually like to see.
This is what is critical. It's easy to be a curmudgeon and criticize everyone and everything – but what are instances when positive changes have been made for the world? What should policy really look like?
The greatest hope in Obama's tattered and messy foreign policy is Iran. Despite his cryptically blunt statements that the United States will use force to get oil from that region, an incredible opening came up in the aftermath of the war drums beating for Syria. Barack Obama set a milestone by being the first president since the Iranian revolution to publicly speak with the Iranian leadership.
Iran is a very significant oil producer – it ranks third amongst the world. An opening of Iran could be a very important policy shift – our traditional "ally," Saudi Arabia, openly demonstrated that they didn't like the Obama administration and this country's various wars in the Middle East bear the question of whether they were really just Saudi wars.
Unlike Saudi Arabia, Iran shows significant signs of progress as a country. It is a very youthful country with a large population under 30, many of whom have been greatly optimistic about the new leadership in that country.
We have inherited from the Bush era the neoconservative idea that bringing countries in to the global fold requires force. The contrary idea is the truth. Before the Bush years, we have inherited this destructive idea from colonialism and have not shrugged it off. Our relationships with developing countries like Mexico or Brazil rely on trade, respect and commerce – not sanctions, fear and the threat of war. The Iranian people could enjoy a great, growing market for their natural resources and, in exchange, we could supply them with a growing lifestyle with our money. This requires responsibility from us, however – instead of instituting puppet dictators like we did in the 1950s by installing the Shah, we would need to learn to collaborate with the leadership the Iranian people choose for themselves.
A powerful analogy between our relationship with Iran may be the Mexican-American war. The Mexican American war affected American politics by uniting forces of anti-imperialism and anti-slavery, culminating in the Civil War. While we never directly went to war with Iran (though Iran was very much involved in the war that followed the 2003 invasion of Iraq), the tensions between Iran and the United States has been a major catalyst for much that has followed. The Iran hostage crisis defined how many Americans think of Islamic terrorism and the method by which it is confronted (Reagan's confrontationalism was greatly favored of Carter's diplomacy). It helped initiate an era of hostility and intervention in that region that eventually led to our shores.
Despite historical hostility, Mexico eventually became a democratic and trusted neighbor and partner. Mexican leaders now are promising their people that their could have "first world status" in their lifetime. Peace and commerce is possible! Now there are significant roadblocks keeping Iran from being a Middle Eastern Mexico. We have created many impediments that would make that a long term process:

The IEA also said few observers expected sanctions on Iran's oil and finance sector to be eased anytime soon, despite a friendlier rhetoric from Tehran.

"Rather, most expect that turning the clock back on sanctions will be a drawnout process based on tangible diplomatic progress with regard to the issues at hand, which many still view as a remote prospect," it added.
The folks over at the Ron Paul Institute for Peace and Prosperity have noted that the war loyalists – people like Lindsey Graham or John McCain - are already trying to clamp down on peace in favor of extending the toxic relationship we've had with Iran in to the future.
Hopefully they will fail and, if played right, Iran could be a much better ally for this country than Saudi Arabia, our traditional ally.
By: Orion | Nov 2, 2013 Featured
A couple years ago, when I started at Gonzo, I wrote an article for PJC about Asperger's syndrome. Given the information I had about the disorder at the time, it made sense. It talked about people who had been diagnosed with the disorder as well as people who may have had it.
Generally speaking, the press about Asperger's syndrome was favorable. Movies like Mozart and the Whale and Autism: The Musical portrayed Aspies as loveable and misunderstood. I used to get alot of emails during that period from people who thought they might have Asperger's and asking advice (I still get those sometimes but my response to them has changed considerably).
It changed quickly a few years ago. While travelling, I went in to serious withdrawal on psych meds I was taking to "treat" the anxiety of AS. It took years to recover. The recovery period had road bumps as the world seemed even worse than I felt – Autism Speaks had to speak on behalf of Aspies everywhere when it was revealed that Adam Lanza had been diagnosed with Asperger's syndrome.
While Asperger's syndrome isn't real, the behavior that usually gets diagnosed as Asperger's syndrome is. In all my years of meeting others diagnosed with it, most of these young men (there are a few women who get diagnosed with it and they have similar characteristics) have things in common.
One is really, really bad socialization. One "Aspie" I met, and was friends with for a bit, was very badly socialized – he described himself as "isolated" for most of his childhood. His parents refused to tell him about his real parents (he was adopted). He also grew up fairly wealthy and comfortable so he was sheltered. All of that is a total recipe for insensitive and sociopathic behavior.
Most of us are socialized by others – children become what we treat them as as children. If we treat them as inferior, they think they are inferior. If we socially isolate them, they become social isolated. If they are sheltered, they become sheltered. It's a pretty easy recipe.
Dealing with my friend on a regular basis was extremely frustrating. Not only did he uncomfortably remind me of myself years ago but he was extremely sensitive. You could not say almost anything to him as he didn't seem to know how to deal with anyone saying anything he didn't like to him.
Given all of that, I don't think anything was wrong with my friend's brain. I think that Hans Asperger, when he discovered his "disorder," really just found mostly young boys who were being raised in socially alienating environments. Parents who treat their children like an "other" are also much more likely to be friendly to psychiatric diagnosis – they have raised their own children already on the basis that something has to be wrong with them.
I grew up in a very alienating environment. I'm going to try to avoid a personal tangent but I will say that I don't talk to my family and don't like to. They're not good people and showed quite clearly that they hated me from the beginning for reasons I had nothing to do with. Maybe it was my father, I don't know. I am tired of trying to find out.
I was put in front of psychiatrists and behavioral pathologists as early as four years old and I was shopped around to every child psychiatrist in the Seattle area until my mother found the diagnosis of "Asperger's syndrome" around 14 years old – there was about ten years of behavioral pathologists putting me in front of toys, talking down to me and studying me like I was in a concentration camp.
Psychiatry is an extremely humiliating and dehumanizing institution. If mental illness is real, which I have grown doubts about, there must be other ways of dealing with it than psychiatry. Also, pharmaceuticals are meant to treat diseases – epilepsy, cancer, Diabete's, HIV – they don't cure your personal problems.
Now, over the years – Asperger's syndrome didn't seem too dehumanizing. Another trait I've noticed in people diagnosed with Asperger's is a man-child personality – a significant delay in development in to adulthood. I don't think this is the result of a brain disorder. The prevalence of Asperger's syndrome now is the result of the large scale subsidizing of Special Education programs in public schools. It pays more for a school to label a kid as somehow mentally ill so they do so, effects on self-esteem or self-worth be damned. (It's about the bottom line, remember!)
As a result, alot of young men and women diagnosed with AS are treated like children when they no longer are. I am willing to gather that Adam Lanza was babied – the environment he was in was certainly bizarre and unhealthy. The assumption that they have a brain disorder that makes them unable to adhere to social cues results in people not really expecting them to do so.
Granted with all of that, and everything I experienced, it seems like Asperger's syndrome is suddenly over. The DSM, the guidebook that all psychiatrists use to diagnose Asperger's syndrome, took out AS last year and is advising psychiatrists to no longer diagnose it. The disorder is now tainted by being tied to Adam Lanza, the boy who massacred Sandy Hook Elementary School.
Slate ran a confusing and damning piece called "You Don't Have Asperger's," which inferred that, far from being a real thing, Asperger's was just short hand for socially awkward individuals. Another editorial, "I Had Asperger's Syndrome, Briefly," was written by someone who was diagnosed with AS but turned out to just be an awkward teenager.
As more evidence began to reveal itself that Asperger's wasn't a real thing at all, I began looking at myself as a child – before I got diagnosed with nonsense disorders. One of the traits of Asperger's is not being able to look people in the eye – one famous memoir by an "Aspie" is called Look Me In The Eye – well guess which one is me in this picture:
Yeah, that meets me – making direct eye contact with the photographer. Maybe I grew in to Asperger's syndrome. Or something. I'm not sure.
I am still very angry that I spent years thinking I had this disorder. It shaped how I thought about myself. It destroyed the relationship with my parents. I don't really trust the people who told me I had this – their authority is over and I seriously question their motives.
I never got an apology and the people who brought this nonsense in to my life acted like I brought in all in. I have met many people in my generation, through my Facebook SSRI support group, who have had similar experiences and even if they repaired their lives, their relationship with their parents has often been devastated.
I think that, with this and ADD, as well as "bipolar disoder" (like Asperger's, many of the people, largely women, I have met diagnosed with bipolar do experience the characteristics of the disorder, in this case mood swings, but they are brought about by other factors like hormones, not some "chemical imbalance") we really need to look in the mirror and come clean about pathologizing children. I personally think that behavioral pathology of children should be against the law or at least not sponsored with tax dollars.
By: Punk Johnny Cash | Nov 1, 2013 Anarchism, Class War, Direct action, DIY
Russell Brand has been under attack over his recent article lately "Russell Brand on revolution: "We no longer have the luxury of tradition" But before we change the world, we need to change the way we think.". The left took to him like vultures tearing up every opportunity we had to exploit this occasion and get real radical ideas discussed on a much larger stage. We can discuss the misogyny of his actions in this and in the past, but we also need to seize this moment to stand up for what was said.
Sadly if you are butt hurt he pissed on voting then you might not be as left or liberal as you would like to think, so maybe you should start questioning why it is you support this oppressive system.
For those of you who are still listening and talking you should understand that our system of electing rulers has failed us. It is time to call for revolution. I am not looking to reform our system this will only clean up the ruling class just enough for it to be slightly tolerable for a little while longer. We need to bring down the system.
I choose to highlight two paragraphs.
Total revolution of consciousness and our entire social, political and economic system is what interests me, but that's not on the ballot. Is utopian revolution possible? The freethinking social architect Buckminster Fuller said humanity now faces a choice: oblivion or utopia. We're inertly ambling towards oblivion, is utopia really an option? – Russell Brand
I am not sold on utopian revolution in the reality of a revolutions outcome, but that is the goal. Isn't that the goal of every revolution? We can say that the outcome of revolution can far exceed the current system of the ruling class which is founded on and supported by murder and exploitation.
Along with the absolute, all-encompassing total corruption of our political agencies by big business, this apathy is the biggest obstacle to change. We can't alter the former without removing the latter. Can this be achieved? Obviously this is a rhetorical question and without wanting to spunk the surprise ending the answer is yes. – Russell Brand
Not only can it be achieved but it must. It can and one day will be done. The question is always will you wait for it or will it happen when things are worse? I fear that too many are complacent and true change will be later when it seems too late.
What is an answer or a goal? I cannot speak for Russell, but myself, I look to the vision of the anarchists who have lived and are living now offering alternatives. Not to be redundant, but the two biggest actions I feel are needed right now are education and organization.
The vote is a passive complacency. Direct action is the active participation in change. So, no a vote is not what will bring any answers but only through direct action will we change the world.
The clear and concise truth and message both behind what I am writing and what I get from Russell's article is this: The system and our rulers will not bring us any answers. We must rise up and create the tomorrow we want.
The message is resistance and revolution.
By: Orion | Nov 1, 2013 Featured
The world is changing fast and one of the key ways it is changing is that many of our old assumptions about economics are simply falling apart.
For about the last century, the battle in economics has been capitalism versus socialism, Marxism versus neoliberalism, etc. It may seem confusing and a bit of a headache but when you look at when most countries and people adopted certain policies, it makes why they did so.
It was mostly developing countries that turned socialist. Cuba, Zimbabwe, the Soviet Union, China, North Korea, Venezuela. Socialism sold to the peoples of those countries because they were the exploited – the United States, Canada and Europe made the goods they consumed there, often with little regard to the impact they had on these developing peoples.
Capitalism sold for the opposite reason. To the developed, collectivism meant giving up to others. Since wealth had never been created in these developing countries, there was not enough to redistribute and shortages and the brutality that resulted from material scarcity were apparent.
It made sense that when the Soviet Union collapsed, with breadlines and imprisoned dissidents the legacy of that experiment in communism, people sided with the United States and its vision. The contrast could not be more blunt – while the Soviet Union had collapsed, the 1980s and 1990s were years of the strongest prosperity in American history! Alot of minds were made in that era and the thought process of libertarians like Milton Freidman started there – Ron Paul and his son, Rand, certainly had their philosophies shaped in that era.
Things have, of course, changed alot. As Charles Mudede notes in endorsement of Socialist Alternative Seattle City Council candidate for The Stranger, a Seattle newspaper, capitalism is becoming as much of a dirty word as socialism once was. Hard communist states exist in only two or three states in the world while a comfortable mixed economy exists in Europe and Canada.
America alone lives the dream of capitalism and, while led by a center left president, has a healthy contingent that really believes that baseline safety net programs like Food Stamps or Social Security are the beginning of Stalinism. Recent years in this country have been filled with nightmares of "limited government" and capitalism – the Exxon – Valdez oil spill which, as Mudede notes, was visible from space, bridge collapses as a result of a lack of infrastructure spending, Hurricane Katrina (which of course was made worse as a mix of racially based inequality and a lack of infrastructure spending again) and finally a financial collapse in 2008.
For all its imagined superiority, the United States duplicated alot of the Soviet Union's problems. Guantanamo Bay acts as an American equivalent of the Gulag, where we advertise our acceptance of torture and brutality to the whole damn world. We repeated Russia's Afghanistan sins there and in Iraq and our current president was stopped from launching another Middle East war only when the majority of Americans spoke up.
Likewise, for all the moralism of the political spectrum, there is a nihilism at the core of the American lifestyle. Everything from abortion to guns is a commodity and the government seems to act only in the interest of people with, at minimum, a $100,000 a year income. The family traditions and support that were normative in most the world are gone in favor of dollar worship.
The Republican Party tried as hard as damn well was possible to stop the Affordable Care Act and President Obama's quintessential social work, which may save his presidency from an incoherent foreign policy, survived all the murder attempts. It survived government shutdowns, Supreme Court decisions and Senate and House votes. It did so because the way we have been doing things no longer works for the broad majority of people. As was noted in The Daily Kos, many Americans simply do not think the Republican Party, the party of business, cares about them.

They needed change.
By: Orion | Oct 30, 2013 Featured
I know that the stuff we post here can be pretty negative and depressing. It's not just me – our awesome writer Mohamed Zeeshan, in his first writing for the Hampton Institute, wrote a piece on the danger of nuclear weapons and the still potent need to abolish them.
By now, you may have watched comedian Russell Brand's explosive interview with the Daily Mail where he called for a revolution. If you haven't, watch it:
That interview was epic! Brand uses America as an example of everything that is wrong so we can use his interview to bridge in to American policy issues and not just British ones.
I disagree that the democratic process we have is that indifferent – there is a woman here in Seattle running for Seattle City Council named Kshama Sawant. Sawant didn't go to Harvard University or Yale – she graduated from NC State. She teaches at a community college. She's running as a Socialist. She might win. Her signs are every damn where and she is running on a $15 minimum wage. Many of the locally owned fast food chains already pay that much so it definitely is targeting places like McDonald's, etc. which are documented as having recommended their employees seek out food stamps since their wages don't pay enough to survive. On a massive scale, like nationally, there is something wrong – I think our foreign policy shows that very well.
What can be done about national politics? Well, the hope is there too. Former Presidential candidate Ron Paul recently talked optimistically about the fact that the American people helped stop a president from launching a war with Syria. Efforts to stop The Affordable Care Act, which even if you don't like it, is popular, passed both Houses and was approved by the Supreme Court, were unsuccessful and hurt the Republican Party. Democracy does work but it takes very hard work to make our voice heard.
By: Orion | Oct 26, 2013 Featured
Some very disturbing statistics. The Iraq war is over but, as of October 13, 2013, when this article was written, 5,000 people have been killed in Iraq in the last year:
Baghdad — Bombings in Iraq killed 20 people Sunday and brought the year's toll to more than 5,000 dead in a surge in violence that authorities have failed to curb, officials said.

Violence in Iraq has reached a level not seen since 2008, when the country was just emerging from a brutal sectarian conflict.

The spike in violence, which has included a number of sectarian attacks, has raised fears of a relapse into the kind of intense Sunni-Shiite bloodshed that peaked in 2006-2007 and killed tens of thousands of people.
That is alot, right? Well, let's crunch raw numbers (this isn't per capita, I admit) and compare to the United States.
The United States lost nearly 10,000 souls – 9,289 – in gun deaths alone since the Newtown massacre, which occurred ten months ago. In raw numbers, with only guns alone, the United States is a much more dangerous place than Iraq. Meditate on that.
By: Orion | Oct 24, 2013 Featured
Alternet has an article up asking a vital question – "Why are Americans leaving the US?"
I grew up in the United States and one thing that has been a constant most of my life in American culture is a sort of inclusivity. Many Americans are ignorant of the world around them and a sort of oblivious bigotry takes place among young Americans who simply have never been required to engage the world around them. Many don't seek out knowledge about their mother culture until adulthood. Almost everyone here, with few exceptions, speak English – it's a cool luxury to learn another language but not required.
It's very weird that so many Americans would want to leave because that means it's something they would have to search out when so many are lacking in hard ties to the world outside America. It's weird but it makes sense.
The United States of America right now is not someplace you want to be. Headlines in the news are like nothing I have ever seen before – this country is like a savage civil war without actual sides. I don't know what people are killing each other over but it's something. The news carries stories of daily mass shootings, police shooting toddlers or young girls being tazed. Only blocks from where I live, the body of a woman was found on the side of the road after being shot and I live in a good neighborhood. Nearly every encounter, even positive, with others in this country now carries with it a level of paranoia that I'm unfamiliar with.
Alot of people left Europe as World War II got progressively worse. I don't know what this country is headed towards but if you have a better option, I really encourage you to take it seriously.
By: Mohamed Zeeshan | Oct 23, 2013 Featured
The Indian Prime Minister Dr. Manmohan Singh's ten year tenure as the Head of Government in the world's largest democracy will soon come to an end next year, with him likely not to contest for office again. Since his election in 2004, Prime Minister Singh has ridden the rough waves of Indian politics and seen it all – from taints of corruption to terrorist attacks and of course, for a large part, a continued economic crisis that he half inherited from the rest of the world and half created, as his critics would put it, with unsure policy making.
But in all the chaos surrounding him, there is one legacy that India's economist-Prime Minister will leave behind for sure; something that has and will influence how Indian policymakers, lawmakers and voters behave for a long time to come: consumerism. The Prime Minister's vision for a free-market India has seen him introduce a slew of radical measures in economic and legislative policy towards increasing investment in India, most pressingly from foreign soil.
However, a lot of these measures hit roadblocks even before they got the engine started. Take the 'FDI in Retail' policy, for example, which stalled Parliament for days, last year, before ending with a dramatic vote; orr the attempt to open up the economy to FDI in insurance; or more recently, the bid to allow foreign universities set up campus independently – an idea that has triggered furious debate in higher educational circles. India's aversion to foreign investment is often as confusing as it is exasperating. While on the one hand, India's newly acquired consumerist middle class yearns for world-class service and the government for foreign capital, populist thinkers vociferously oppose anything to do with what they perceive to be 'foreign invasion'.
Given its history, perhaps India's aversion to foreign direct investment is fairly understandable. After all, the last time India allowed foreigners invest on its soil with 'no strings attached', it fell into the oppressive hands of the British Empire. But even before that, for centuries uncounted, India suffered invasion after invasion at the hands of foreign conquerors, explorers, merchants and kings who plundered the land's much acclaimed wealth greedily. With all that at the back of his mind, when Prime Minister Nehru took office in 1947, he decided Western-style business was not for India. India was a land of peasants that were far too vulnerable to capitalist oppression and therefore needed the protection of the state.
But much has changed since the life and death of Pandit Nehru and history is no longer the only thing preventing India from opening its arms out to the wide world outside. Following the era of liberation in the early 1990s and the relative easing of bureaucratic control that came with it, India began to foment little private enterprises and start-up businesses in the service sector – and, more traditionally, in the retail sector. Thus came the IT boom and the numerous peripheral corporate entities that thrived on it, from educational institutes to even hospitals and supermarkets. Today, while India has one of the most lucrative consumer markets in the world, it also houses a relatively less fancy homegrown entrepreneurial industry. In order to protect the fledgling homegrown entrepreneurs, India put in place a number of legislations that make unequal ground between local businessmen and foreign investors, sometimes so far that many consider it futile to do business in India without an Indian name.
But India's aversion to foreign investment has not impressed its increasingly affluent middle class youth. More so, it has not made life any easier for a government caught in a Balance of Payments crisis, almost on the rewind to 1991. Even more importantly perhaps, it will not augur well for an evolving domestic market. In opening up its economy to greater foreign investment, India will be able to introduce a culture of innovation into its market, helping its domestic entrepreneurs and corporations learn the art of research and development – a field long neglected in the country, with almost no foundations today. It will also help create healthy competition for an evolving domestic market, thus providing incentive to homegrown private entities to grow into innovation powerhouses, delivering quality service not just to Indians, but to people around the world.
India's aversion to foreign competition today, in the eyes of other nations, reflects a lack of self-belief, in many ways far removed from reality. The greater challenge to Indian entrepreneurship is not the threat of 'foreign invasion', but the threat of stagnating in status quo. For the Indian domestic market to grow and evolve to the next level, India needs to open up its market further, in order to create competition for a robust Pulling Out: Unlike India, China embraces foreign capitalconsumer playground. It seems however, that for the immediate future, there will continue to be furious debate in the country on whether or not to open the gates out for the world to enter.
By: Orion | Oct 23, 2013 Featured
Anarchism is not about chaos for the sake of chaos. It's about decentralizing from the state and a focus on fulfilling needs through mutual, free organizations founded on respect on both ends of the relationship. That means organizations like Red Cross, Human Rights Campaign, Amnesty International, community centers, food banks. This organizations are right where most governments fail – Red Cross has succeeded in providing aid to people in warzones before states were able to and Amnesty International has spoken out against war crimes during both the Bush and Obama administrations.
Most people who identify as Tea Partiers hate organizations like that – the only organizations they are like are their churches and there is a completely different word for people who want all authority in their church. Please stop calling Tea Partiers anarchists.
I have gotten criticism from people who are fond of mainstream politics that myself and Gonzo as a whole are contrarian and against the political sphere as a whole. We are contrary only against absolute power and people who are fond of absolute power. Liberalism by definition is about freedom from coercion and I think that most of the people involved with Gonzo would like to see political leadership that is not about power through coercion. Even if we reject both mainstream parties in the United States, for instance, we have political leaders who we are fond of. People like:
Ron Paul – Paul is a great man. There are few political leaders who are so honest or so friendly and cordial with people who ask his views. If you watch interviews of his, you should be impressed at how cordial he is. Paul is a libertarian but not a mean-spirited one – there was a very impressive interview he did with Glenn Beck's show The Blaze where, when asked about cutting food stamps, he actually deflected away from the point of view Beck's host was trying to steer the interview towards and actually brought up his relationship with Ralph Nader and an opposition to corporatism:
Malala Yousafzai - Malala is a very popular figure now. She darn near left Jon Stewart speechless:
While she may not look like the figure of anarchism that one would imagine from stereotypical anarchism, Malala embodies anarchism. Her experience with hardcore Islamic fascism didn't make her support American militarism – she told Barack Obama to his face that his drone strikes on civilians are fueling terrorism. Instead she is lobbying for girls' education in developing countries – working for the empowerment of young women instead of the empowerment of a military through war. If Obama really wanted to use his armed forces to help people in the Muslim world (which he has said himself is not the goal at all), having soldiers escort women to school (like Eisenhower and Kennedy did blacks in the south) would sound alot better than having drones destroy their homes and lives.
George Orwell - Orwell is long gone from our world but he understood politics and the state. 1984 and Animal Farm both showed how a state founded on idealism turned in to a hell of spying, non stop wars and human rights violations (sound familiar?). What did Orwell support? Anarchist movements in Spain, a country where anarchism has taken off politically more than any other developed country. Orwell has long been synonymous with anarchism, as can be seen by his #2 entry in the list of "what anarchists like."
Anarchism as an ideology requires a far different mindset than most people are used to do but it is, in my view, the best philosophy for this world. Even if they don't agree with us, it would be nice if progressives stopped calling the Tea Partiers anarchists – they are not. The government shutdowns that Republicans are pushing are not based on creating free institutions but instead getting their way by starving services aimed at sectors of society they look down on. Christianist, fascist, compulsivist, xenophobic, there's all sorts of terms and analogies you could call the Tea Party but please do not use "anarchist."
By: Orion | Oct 21, 2013 Featured
I don't know if readers here know who Professor Griff is – he has been very involved in hip-hop on a deep level and saw the devolution of hip-hop from real, street culture and in to gangsta rap and then the pop rap of Rick Ross, Lil Wayne, etc. A very interesting interview took place with him and The Lip TV:
Griff begins to mention the Illuminati and Barack Obama but gets cut off a bit before he can. We'll elaborate on the subject here. What he was getting at was very powerful – Tupac to him was an illustration of a leader who really could have inspired people being cut short before he had the chance to fulfill his potential.
Before various figures in the public world get the blessing of major wealth and prestige, they tend to think a certain way – the way the average person thinks and assumes – that nonstop war is bad, that government programs should help the general population while not leaving a burden for their children and grandchildren and that people should be free to say whatever they want as long as they do not hurt anyone else. These are very simple assumptions and yet whenever people attain power, especially in this country in which much more wicked things occur than happen in smaller places like Uruguay or Switzerland, a dark cloud falls on them.
Need an example? Okay. Here is Barack Obama in 2002, one of his first public appearances:
Here is Barack Obama now, in front of the United Nations on September 25, 2013:
PRESIDENT BARACK OBAMA: The United States of America is prepared to use all elements of our power, including military force, to secure our core interests in the region. We will confront external aggression against our allies and partners, as we did in the Gulf War. We will ensure the free flow of energy from the region to the world.
I can not get enough of that quote. Nothing is hidden. Barack Obama went from an opponent of the Iraq war to one of the most naked defenders of imperialism we have ever had. George W. Bush, Bill Clinton or Ronald Reagan would never have dropped that line – I'm amazed that even Barack Obama did, given the image he likes to make of himself throughout the world. I am not sure why it was not more publicized – that statement should have been on the front of every newspaper and news site.
The late Christopher Hitchens, who was pro-Vietcong in his younger years, became a staunch advocate of the 2003 Iraq invasion and even wrote a book about it. One trillion dollars and nearly a million (by some estimates) lives later, it's up for debate whether Hitchens was on the wrong side of history or not. (There was an article that Christopher Hitchens wrote where he visited and lived for a short time with the family of a fallen soldier which I think was a dry way of admitting he had been wrong about the war.)
Apparently not learning from the Iraq lesson (or maybe learning the wrong lessons from it) Barack Obama's foreign policy was nothing like the guy we saw in 2002 or who called Iraq a "senseless war" on the campaign trail in 2008 escalated involvement in Afghanistan, launched drone strikes in Pakistan which have been documented to have killed civilians and advocated for a military strike on Syria, only backing down when checkmated by Russia. US and allied efforts also helped bring about the death of Muammar Gaddafi, leaving a civil war behind.

It's a very similar thing we see happen again – when they get closer to power, these guys like power alot more. During the Bush years, Gen. Wesley Clark would get very strong about Bush's war on terrorism, saying that the original plan was to take out seven countries (we are on the way there during the Obama administration), calling Bush's administration the "most arrogant administration in history" and saying that our soldiers want to know what they are doing there:
He may have been right but, when Obama was advocating for war in Syria, he was a hawk all of a sudden. A friend who showed me both videos joked that "they got to him."
Robert MacNamara, who was Secretary of Defense during Vietnam, did the narrative for a film called The Fog Of War, which went deep in to his own personal regret about the atrocities America committed. Like many, nothing stopped him or made him reluctant while in power. When he was out of power, his conscience came back to life:
George W. Bush talked about a "humble" foreign policy before he became president – look what happened. Rand Paul, the son of Ron Paul – a congressman who has been consistently anti-war for 30 plus years, is showing signs of cracking and the possibility of selling out as he moves closer to the possibility of presidential contender in 2016.
I don't think it is a coincidence that individuals across the political spectrum promised and advocated for peace before coming to power and advocated for peace after being in power but, while in power, became advocates for war. It seems to happen again and again. As civilians, they are simply bystanders to human events – maybe influential ones but not making decisions for humanity.
During the government shutdown, small riots occurred when EBT cards (which are used by low income individuals in the United States to buy food) stopped working. It is disturbing to imagine what would happen if the reliable flow of energy that we are used to were to dry up – imagine those EBT riots times 10,000. You don't have to drive a car to use oil – petroleum is the basis of plastic and plastic is used for everything from soda bottles to CDs to action figures – almost all foods are wrapped in them.
When Obama says we will ensure the flow of energy from the Middle East to the world, he is not kidding – by being the ombudsman who tries to reel in oil providing states that try to go rogue from Venezuela to Iran, the United States is making sure that all developed countries can stay developed. Our society is so dependent on petroleum that the costs of losing access to it may actually be much worse than any war we could end up in. I think that most individuals who enter the White House get reminded of this alot.
Back to the original topic of hip-hop and the Illuminati, I do not personally buy Professor Griff's theory that Tupac was taken out by the Illuminati but it is interesting and illuminating in the case of various figures who were cut short or changed. Having been involved in hip-hop and having known buddies who were murdered, I think alot of that has alot more to do with gang violence. Now people may be falling in to gangs because of poverty, etc. but that misses the overall point. I think Tupac's murder was a factor of him being involved with Suge Knight (Suge Knight also held Vanilla Ice by the neck over a hotel balcony), not a government conspiracy.
Nevertheless the downfall of Tupac Shakur does mirror what happens to many of our best leaders – they either become the villain or die before they can become the villain. Power corrupts and absolute power corrupts absolutely.
By: Orion | Oct 19, 2013 Featured
For how many war this country voluntarily involves in, it manages to regret almost all of them. There is a lion's list of figures from American government who not only apologized for their part in selling wars to the public but seemed to seek restitution for it. When I was at Cal State's Political Science program, I was assigned to watch The Fog of War, a movie about former Secretary of Defense Robert McNamara, Secretary of Defense during the Cuban Missile Crisis and Vietnam. McNamara had blood on his hands and he knew it. You could see the pain in his eyes during the whole film. Watch it for yourself:
More recently and just as powerful is Colin Powell's endorsement of Barack Obama. He talks about being emotionally effected by the death of a young Muslim soldier in Iraq. Colin Powell jumped ship from the Bush administration and also expressed regret at his speeches selling the Iraq war to the United Nations. I do think that he emotionally connected a vote for Obama to change and transformation away from the policies he helped to sell.
Can we expect Barack Obama to one day apologize for feeling guilty about the drone strikes that have killed civilians in Pakistan or of his general renewal of the policies of Bush and predecessors toward the Middle East? Everyone seems to be a critic of policy towards the Middle East outside of the White House but once they become president, interventionism and neo-colonialism is the doctrine. It would be nice to see change we can believe in this department – policies of engagement towards even the most hostile countries and a real effort to make energy available through means that will not require nonstop wars.
By: Orion | Oct 17, 2013 Featured
I thought this was really important to watch. A couple days ago, Gonzo Times had a run in with a reader when I defended Rand Paul and praised his standing in the way of President Obama's drone program.
I don't want anyone thinking this site endorses Rand or his father and I hope this post will help solidify that. Rand Paul got in trouble years ago for refusing to say that he would support a renewal of the 1964 Civil Rights Act. I think it's very easy for people, such as myself, who grew up in liberal environments to really understand what serious racism looks and feels like. The Civil Rights Act was set up to stop exactly this sort of thing and has stopped this sort of thing since it became law.
By: Orion | Oct 14, 2013 Featured
I don't really have anything much to say about anything right now but I have plenty to feel. This site is anti-war if it is anything at all and there's quite a few anti-war compositive films that I think you will all will enjoy. It's funny – sometimes all you have to do to be anti-war is just show in it in all its real, shitty glory.
By: Mohamed Zeeshan | Oct 14, 2013 Featured
The 23rd summit of the Association of South East Asian Nations (ASEAN) recently concluded in the little kingdom of Brunei. Much was discussed at the summit, from global economics to regional geopolitics and of course, territorial disputes in the South China Sea.
Over the years, the ASEAN has proven itself to be among the more productive regional conferences, in sharp contrast to South Asia's SAARC, Europe's EU or even Africa's AU. There are many reasons for this, least of all being South East Asia's economic resurgence. Rather, unlike its counterparts in other parts of the world, the ASEAN has been a rather cohesive unit with greater transparency and trust in its negotiations, largely due to the fact that there is no member within the association that is particularly dominant and overbearing. On the other hand, while the SAARC is almost totally dominated by India, often against its own volition, the AU is dominated by South Africa and the EU now largely by Germany.
But the recent ASEAN meet wasn't as newsworthy for the members in attendance as for the non-members sitting outside who took keen interest in its proceedings. While India's Prime Minister Manmohan Singh was personally present for the East Asia summit, the United States Secretary of State John Kerry lingered around in Brunei too. The other regional bigwigs China, Japan, South Korea and Australia held keen discussions on the summit in national media and government as well.
Hand in Hand: The ASEAN has grown together
It's not difficult to see why global powers are so strongly interested in the ASEAN. The ASEAN, an association of 10 nations, has a combined GDP greater than that of India's at over $2.3 trillion and a population of 600 million – half the size of India. In the 20 years from 1991 to 2011, the combined ASEAN economy has grown at nearly 9% consistently. In the fourth quarter of 2012, Thailand recorded a whopping 18.9% annual growth. All this while the rest of the world, including the emerging economic machines in India and China, bemoaned a global crisis. Even more attractive is the demographics of the ASEAN. As of today, the middle class population in the ASEAN is over 50 million, greater than even the famed Indian middle class bulge. And over 66% of the ASEAN population is of the working class age, in contrast to the aging Chinese.
But beyond all, there is obviously the one thing which countries like India and China are fishing for in ASEAN waters: oil. Currently, the South China Sea is estimated to have 10 times the proven crude oil reserves of the US and natural gas equal to that owned by Qatar.
There is also something else in the ASEAN which, in the context of the Arab Spring, becomes rather significant. The ASEAN contains, in its midst, two model Muslim democracies in Indonesia and Malaysia. Indonesia's fight against Islamism has been an inspiring one. Since the devastating bomb blasts in Bali in 2002, Indonesia has picked up the pieces by carrying out a mass education drive, unique in many ways. It did not shun the madrasa model currently used by Islamists to indoctrinate young Muslim youth in Afghanistan, Pakistan and parts of Africa; instead, it reformed the model to impart quality modern education alongside a meaningful interpretation of Islamic and Quranic principles. Then, it reformed its loose part-military, part-civilian democracy into a more full-fledged liberal republic in what was truly a path-breaking transformation for a Muslim nation. Today, Indonesia is a true republic which stands out in its ability to counter Islamism through inclusive education.
In the midst of all the progress, the ASEAN will and is facing nations that strive to partner it and gain influence over it. But for the ASEAN to continue growing into a future powerhouse, it is important to maintain its cohesive autonomy. The ASEAN's greatest strength continues to be the fact that none of its members are economically dominant or overpowering. With all the wealth beckoning, global powers will wrestle each other outside its doors. But neither India, America or more particularly China, ought to exercise excessive strategic influence over it, lest it end up like its counterparts in South Asia or Europe. For now though, it seems like there really is an ASEAN 'pivot' happening.
By: Orion | Oct 13, 2013 Featured
When I set about writing a Sunday morning piece for Gonzo Times, Malala Yousafzai was the first subject I wanted to tackle. Yousafzai deserves alot more than an early morning stream of consciousness article, however, so "anarchism" and the Republican Party is what we will go for this time. It's a topic at least as critical as Ms. Yousafzai – the misunderstanding of what "anarchism" is. Take this quote by Senator Elizabeth Warren: 
We are not a country of anarchists. We are not a country of pessimists and ideologues whose motto is "I got mine, the rest of you are on your own." We are not a country that tolerates dangerous drugs, unsafe meat, dirty air or toxic mortgages. We are not that nation. We have never been that nation, and we will never be that nation.
Elizabeth Warren seems like a good woman. I run an SSRI recovery group and I certainly agree with her sentiment about "dangerous drugs, unsafe meat, dirty air and toxic mortgages." However, her terming today's GOP as "anarchists" makes no sense.
It reflects ignorance for Ms. Warren to hurl the epithet of "anarchist" at Republicans. Anarchism is defined by Wikipedia as "a political philosophy that advocates stateless societies based on non-hierarchical free associations.[1][2][3][4][5][6] Anarchism holds the state to be undesirable, unnecessary, or harmful." The Wikipedia definition also adds that "anarchism entails opposing authority or hierarchical organization in the conduct of human relations, including, but not limited to, the state system." Anarchists are, by definition then, not the building burning sociopaths that we are made out to be but people who hold equality as a pinnacle. The definition is actually pretty clear – it's strange that anarchism is seen as anything else.
I am not rich. I seek to monetize Gonzo Times and I do bring in an income from editing and writing that is respectable but I have had to put my hand out for help from others. I recognize from experience the need for social services – I in fact recognize that the need is immediate and deeply necessary. The need for social services that I've experienced has actually made me loathe the federal government even more – when I was very poor, I found applying for and receiving food stamps a difficult, hoop jumping process – the local, voluntarily created food banks in the Seattle area helped alleviate hunger much faster.
The federal government has, for the most part, only ever been good for one thing – force. Sometimes that force is warranted or at least justifiable – desegregating schools or liberating Asia and Europe in World War II – but much of the times it isn't justifiable. The federal government has given us everything from nuclear bombs to standardized testing – it has made life more difficult than not.
In fact, this government shutdown should show how much the worldview of anarchism really has to offer. By centralizing so much authority in the US federal government, people throughout the United States and even the world were able to be held hostage by Republicans on a scale that would not be possible if emphasis were put instead on local, free associations.
Anarchism is different from libertarianism in that it recognizes first the need of people to cooperate to get anywhere in this world. Libertarianism is defined as "a set of related political philosophies that uphold liberty as the highest political end." Libertarianism can end up looking like any number of things – some good, like Rand Paul standing up publicly against President Obama's drive to use drones on American citizens, and some very wicked, such as the irrational and terrifying gun rights lobby. I jumped from libertarianism to anarchism and websites like United Liberty and The Liberty Papers to Gonzo Times because of some of the sicker things right wing libertarians are often fond of.
Anarchism is usually strongest in urban environments, where diverse conglomerates of people have to cooperate just in order to survive with one another. Despite  their loathing for the central government (which in this country comes from the Civil War and desegregation), your average conservative respects heirarchy and desires a rigid heirarchical structure with race and gender identities playing the designation. True blue conservatives (not libertarians, who can get freaky about authority) often are very cooperative and friendly with police, support strong penalties and enforcement for laws and oppose open immigration, same sex marriage and a number of other things that could disrupt a rigid social order.
If not anarchism, what is the Republican Party suffering from? Some people have said nihilism – the Republican Party during Obama has opposed nearly everything, good or bad, with no suggestions of anything better. Republicans before succeeded with the American electorate before because they did have something to offer. Reactionary politics, a term historically hurled at conservatives, might be accurate now too.
Anarchism is certainly not accurate – anarchists aren't for chaos and never have been.
By: Punk Johnny Cash | Oct 13, 2013 Anarchism, Class War, Direct action
I hear workers complaining about their situation. I attempt to agitate "Doesn't that make you mad?" but if you cross that line to "Isn't it time we do something about your situation?" it is too much for most.
I just want to have a slightly nicer financial situation and I'll be okay with the system. Our representatives will make the rules and changes. Change will never happen. I'll chase the capitalist carrot a little longer.
The United States is distracted, complacent, fat and happy. I am doubtful sentiments in the U.S. will change until we face a more tragic future that awaits us.
If you have your eyes on the end result it might help, but the sad reality is that with the decline of unions and the sick hierarchical structure of many the reality is that organization of the people is at a low. Where we have seen people taking power through organization in history it did not happen overnight.
I'll be honest. My end goal is revolution of the people and the abolition of the state and capitalism. Let's be clear here. If you unionize the state and capitalism will still be here tomorrow. The system will still be up against us, a monolithic impasse which seems overwhelming.
Organizing which is being done to raise minimum wage is facing far too much cultural opposition. Fear of the two dollar cheeseburger grips the nation. The system is not even being challenged. God forbid we challenge what is. Why should we? The U.S. is still living off of the labor and resources of workers and exploited people around the world. The parasitic nature of the U.S. and the element of privilege of the capitalist nation is fragile. When you start to talk about changing the system you threaten power and wealth. We don't look at the multimillion dollar raises the CEO's get as a threat, only the raise of the workers. Of course we don't because empowering the workers is a threat to power and hierarchy. So the powers that be only perceive the threat of the empowered worker as they accept their supremacy without question. In turn many workers hear this dialogue and do not question it. They find themselves defending their masters and perpetuating their rhetoric.

Read the rest of this entry »
By: Orion | Oct 11, 2013 Featured
I don't have too much to say on this one except to note there is a candidate here in Seattle, Kshama Sawant, who is running as a Socialist (as in the Socialist Party – not as Democrat who is a socialist). She has several signs out throughout the city that say "$15 An Hour Minimum Wage" – it's her big claim as a candidate at all. $15 is actually less than double the minimum wage – Sawant is hardly a revolutionary communist or whatever to be asking for something that modest.
Alot of libertarians, and this website did start out as a libertarian venture, like to bring in "economic freedom" as their definition of freedom. The woman in this video tells the McDonald's CEO that she has not had an increase in pay despite being there for ten years and is told, in response, that she is "going to be arrested." Yeah, that's freedom all right. Libertarianism is supposed to be for freedom of the individual – money is freedom and ensuring that people get the money they deserve for the work they put in is therefore ensuring their freedom.
Watch the whole thing – Young Turks say it better than I can.
This goes with a general trend in which employers in this country are able to play a very authoritarian role with their employees playing subordinate with few, if any, guarantees of their individual liberty. It's been found legal that employers in unpaid internships, something too many college graduates find themselves nearly coerced in to, can sexually harass their employees to their heart's content without any fear of reprisal:
We can do better than this.
By: Orion | Oct 11, 2013 Featured
In addition to ministering Gonzo Times, I have done editing work – which includes doing so for a friend Luis Congdon. This article by him was published yesterday in the New Spirit Journal:
In my work with couples and parents, I am often struck by how many great parents there are. However, I am also often surprised at how little we know about being a good parent to ourselves.

The amount of love and dedication that mothers and fathers give to their children simply amazes me. Every day I have the privilege to sit with parents who have decided to hire me in order to become better caretakers of their children, better spouses, better lovers, better employees, and better humans. I'm amazed by the amount of effort that people are willing to put into improving their relationships with their children and their family.

While I meet with many mothers and fathers who are excellent at parenting their children, boosting their self-esteem and confidence, praising them, showing love, dedication, and care, I don't see many people who treat themselves the same way.

In my work, I will often ask a parent, "When your child is first learning how to walk, do you praise it?" And they'll answer yes, of course.

"When your child is first learning to speak, do you praise it?" Again they say yes.

"When your child comes to you sad, do you hold it, love it, give it unconditional attention and love?" Yes, again.

"And how about with yourself? When you make a mistake, do you hold yourself, do you love yourself? Are you present with yourself in an unconditional way, the way that you as the most amazing parent, does for their child?" Of course, the common answer is no. We don't know how to do that. I even hear people say they don't deserve it.

As parents, we all know that praise, love, unconditional care helps our child succeed in life. We know that if our child is beginning to learn how to walk, every time they get up just a little and fall, we praise them, we're there for them, watching them, cheering them on. We are their number one supporters. But with ourselves? When we're trying to learn something new and we make a mistake, we're often times harsh on ourselves, we're often mean to ourselves, we hold guilt over ourselves, we implode into many variables of negative emotions. This is an unfortunate fact.

On the flip side, when we become our own best friend we have a whole different way of being. When we are unconditionally loving and present to ourselves, we will move through the world with a new, confident energy. An energy that allows us to fall, get back up, correct, and constantly be ready for success.

What happens when our child tries to walk and we praise them, we love them, we reward them, cheer them on, smile, hug them, hold them? They eventually succeed. And they do so with confidence.

If every day you feel a high level of unconditional love toward yourself, if you were always there cheering yourself on, believing in yourself, imagine how that would change the relationships that you have around you.

Here is a simple exercise to begin to develop being your own best parent:

Every day, take a few moments to stand in front of a mirror and pay yourself compliments. Remind yourself that you are special, praise yourself for an accomplishment, treat yourself to the kind of reassurance and praise that you give to your children.

If you don't know what to say, start with something like this: I love you. You are so special and precious. I will always be here to protect, love, and care for you. I love you.

If you truly want to be the best person you can be, then you need to show yourself the kind of love and dedication you're already showing to your children, your best friend, whomever you love so much that you see them as great. Commit to being the best parent you can be to yourself and watch the results of your life change.

Luis Congdon is a life and success coach in Seattle, Wash. He professionally taught the work of Drs. John and Julie Gottman for a nationwide research project. He has worked with well over 200 couples, taught courses on self-love, creating intimacy, keeping the love alive for couples, and meditation courses to busy parents, and much more. In his pursuit to learn he lived in a yogic ashram for two years, briefly stayed with a Buddhist monk, worked on a Quaker farm, and studied Christianity at Seattle University. If you wish to get in contact with him, call him for a free consultation at (425) 610-6312 and visit his website Wholesomeunion.org for free podcast interviews and much more.
By: Orion | Oct 11, 2013 Featured
It has not been solidified yet at all but the good people at the Hampton Institute, a working class think tank, have been open to sharing some of the work we have done here – especially Mohamed's analysis. There is some amazing stuff going on over at Hampton – I thought that this article about standardized testing stood out especially:
High stakes testing is the new standard in education. Politicians and edu-reformers hail testing as an essential component of "teacher accountability," asserting that one-size-fits-all testing is the most reliable method for measuring student learning. In Washington D.C., Michelle Rhee reformed the educational system to be built around standardized testing and its results [1], and in New York City, Mayor Michael Bloomberg has attempted to follow suit [2]. Standardized test scores are being applied to determine whether teachers are "competent," whether students are "learning" and whether schools are successful or not. In the midst of this standardized testing fervor that has swept the educational landscape, parents have begun to seek out ways to shield their children from this mania. As a result, the "Opt Out" movement has emerged.

The Opt Out movement defines itself as being "against high stakes testing (HST) and the corporate education reform agenda." The concept behind Opt Out is to give parents the option to opt their children out of taking the high stakes standardized tests which are driving education policy more and more every day. According to the Opt Out website:

"Opt out means a refusal to 'buy into' something-in this case the stranglehold that high stakes testing has on public education. We believe that the quickest, swiftest, and most effective way to end the destruction of HST is for parents, students and teachers to refuse to participate in these mandated high stakes tests [3]."
This is great – people should be able to be admitted to, say, graduate school based simply on their having completed a Bachelor's Degree competently and with good grades. "High stakes" is an accurate description – untold levels of anxiety, fear and panic surround something like the GRE – whereas graduate school should be a complimentary supplement to individuals who have finished undergraduate and worked in the "real world" however briefly.
If you like that article, be sure to check out everything the Hampton Institute has to offer.
By: Mohamed Zeeshan | Oct 11, 2013 Featured
For most part of the last century, the United States unilaterally dominated global affairs and geopolitics in an almost freakish part of world history. It seemed like wars could be begun and regimes overthrown at the whim and fancy of the President in the White House. It was just so that America was able to get its way in places like Korea, Cambodia, Iraq, Palestine and so on. American dominance in Middle Eastern political affairs in particular once seemed unassailable.
The United Nations Security Council, despite having four other permanent members with veto rights was unable to stop Uncle Sam from removing Saddam Hussein from Kuwaiti territory before imposing sanctions on him and then eventually invading his country and getting rid of him.
American dominance has long been a polarizing issue in global geopolitics and one of its Presidents even took a shoe for it while in Iraq. But there is no doubt that during the Cold War and after, America was able to decisively quash Russian claims of a bipolar world and take all the power for itself.
However, today in 2013, it seems a different story. America was unable to take the lead on NATO's invasion of Libya (it was France who seemed to initiate it.) America was unable to stop Benjamin Netanyahu from expanding his footprint in Palestine despite President Obama's stated objectives against it. And now, America is unable to goad the world into action in Syria despite its best efforts in the UNSC.
What in the world caused the change?
There is no doubt that global dynamics constantly undergo change from one generation to another. Different empires and nations rise and fall periodically. America's dominance of the world however was an anomaly, considering that it came post the imperialist era. There were many reasons why the United States enjoyed such a privilege. Firstly, America was fortunate to be in the right place at the right time.
During the founding of the nation, the Western world was undergoing the Renaissance, leading to the growth of great intellectuals, thinkers, scientists and entrepreneurs. Riding on its liberalist economic ideology, America soaked in all of that energy and unleashed its latent talent on the world. Thus were born the likes of Henry Ford, John Dunlop and the Wright brothers. This set up a corporate culture like none other in America, helping carry on their legacies of invention and innovation through the generations that followed.
A second reason America dominated the global economy, and hence the world, was its consumerist pattern of living. With the income generated through entrepreneurial genius and manufacturing prowess, Americans raised the bar of living by purchasing greater luxuries and thereby making the world sell to them. For a large part of the 20th century (and in fact, even today), countries around the world relied on the income they earned through the sale of items and services to customers and companies in the United States.
During the late 1970s and through to the 1990s, America imported over 40% of its total oil and that figure peaked to 65% by the end of 2005. Over this period of time, America was the world's largest importer of fuel and most of the Middle East's revenue was derived from this massive transaction. This economic dependence of the Middle East on American oil purchases drove America's large influence in the Middle East through the latter half of the 20th century. America's large economy – driven by consumerism and corporate entrepreneurship – meant a third thing which made it the global superpower: cultural influence.
Over a period of time, American culture began to infiltrate into other societies across the world, during the globalization era. The world ate American food, wore American clothes, watched American movies and listened to American music. This stronghold of soft power further meant that America's dominance went unchallenged through the years.
Now fast forward to 2013. America's newly acquired ability to produce its own oil meant that its dependence on the Middle East for fossil fuel decreased. The Arabs do not sell as much to the Americans any more as they used to. In March this year, China replaced America as the world's largest oil importer. Similar trends spilled over to Africa where the continent's most populous nation, Nigeria recently said figures show that over the last three months, India has been importing more oil than America.
It's not just the oil. America's consumerist lifestyle is undergoing a sea change with the current economic crisis. This has meant that the world's financial dependence on American consumers is seeing a gradual decline even as the Americans are being replaced by the more voluminous and vibrant middle classes of India and China. There is no doubt that there seems to be a generational shift in geopolitical power taking place. As the years pass, that will cause a dramatic change in international relations and foreign policy.